If you have mold growth in your building, you need to act fast. The longer you're living or working in an environment with hazardous mold spores present, the more health issues you're susceptible to. Mold-related health problems can range from allergic reactions and asthma attacks to, in severe cases, brain damage and cancer. Get rid of the risk by contacting Arkansas Power Dry right away to schedule mold remediation. We're pleased to offer commercial and home mold remediation. Whether you already know for certain that you have mold on the premises or you want to book mold testing followed by mold removal service, we've got you covered. From black mold removal to remediation for other types of mold, we'll get your property healthy and safe again soon. Call today!
We're your comprehensive mold removal specialist in Little Rock. After assessing your property to determine the extent of the issue, we'll take steps including:
Chemical mold treatments

Scraping to remove surface mold
Removal of contaminated drywall, carpet, hardwood flooring, or other materials that aren't salvageable
The key to mold remediation is to try to get rid of every last bit. That's why it's sometimes necessary to completely remove drywall and other surfaces. But when you work with Arkansas Power Dry, you can rest assured that your property is in good hands. We'll handle everything with care, always aiming to minimize the fallout from basement mold removal and leave your property in a mold-free state. In fact, wherever there's mold in your space, we'll work hard to eliminate it. We've become one of the most trusted mold removal companies in Little Rock because we truly care about making your living or working environment as comfortable and healthy as possible.
An Experienced Mold Removal Specialist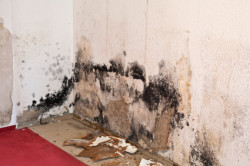 Arkansas Power Dry was founded in 1987. Our black mold removal experts have 33 years of experience in the industry. We'll put everything we've learned in that time to work in your home or business, striving for swift and effective commercial or home mold remediation. For your additional protection and peace of mind, we're a licensed and insured business that's affiliated with both the Better Business Bureau and the Little Rock Chamber of Commerce. We'll give you results that last, standing behind our mold removal services with a great warranty package.
Need attic or basement mold removal in an emergency? One of Arkansas Power Dry's top priorities is giving our customers a timely turnaround, especially when you're dealing with the potential health hazards mold represents. Among mold removal companies in the greater Little Rock area, you'll have a hard time beating our punctual and efficient service, which comes alongside quality workmanship. Ready to make your residential or commercial space safer for everyone who uses it? Give us a call today, and get a free estimate! We're available 24-7-365.