Are you stuck with a residential or commercial space that needs biohazard cleanup before it can be occupied again? Make Arkansas Power Dry your first phone call. We specialize in getting rid of materials no one else will touch, clearing away residue and removing contaminated building materials. We're committed to your health and safety, leaving you with an environment that's ready for use. If you're based in the greater Little Rock area and need hazmat cleanup or trauma cleanup, don't hesitate to get in touch with us right away. We're available for emergency situations, and we'll work hard to meet your needs.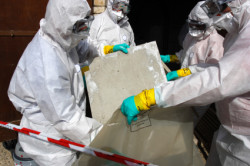 Our biohazard cleaning services include:
Crime scene clean up
Trauma clean up
Unattended death clean up
Suicide and accidental death clean up
Hoarding clean up
Meth lab cleaning
And more
Arkansas Power Dry is licensed and insured for biohazard cleanup, and we have 33 years of experience in our industry. We're affiliated with the Better Business Bureau and the Little Rock Chamber of Commerce. When you're dealing with a trauma cleanup that's more complex and hazardous than you can handle on your own, we're just a phone call away.
Crime Scene Cleaning
H

as your home or business become the scene of a crime? You've likely got a lot on your mind. Ease your burden by contacting Arkansas Power Dry to discuss crime scene clean up. We can tackle blood clean up and get rid of any other hazardous fluids or materials on the premises. We'll take every precaution to keep you and our personnel safe, while also erasing every trace of the crime on your property. When it comes to crime scene cleaning, you can trust our competent and skilled pros to give you peace of mind.
Meth Lab Cleanup
If you've just found out that a property you own has been used for the production of methamphetamines, you have a lot of work ahead before the building is ready for new occupants. With meth lab cleanup from Arkansas Power Dry, the restoration process can become a whole lot easier. Meth lab cleaning must be done by knowledgeable pros, because of the hazardous materials and substances involved in meth production. Tackling the job yourself can put your safety at risk. We're highly trained, and we'll work tirelessly to give you a swift and satisfactory result.
The important thing when it comes to trauma and hazmat cleanup is to let specialists handle it. Arkansas Power Dry has the professional tools and techniques it takes to safely dispose of hazardous materials, get rid of residues and odors, and leave your space looking like nothing bad happened on site.
Contact us for a free cost estimate for our biohazard cleaning services!