Are you aware of the dangers that the presence of radon gas can pose at your home or business? Long-term exposure to radon can cause a wide array of severe health issues. For instance, radon is the second leading cause of lung cancer, after cigarette smoking and ahead of secondhand smoke inhalation. Protect yourself, your family, and your employees by scheduling radon testing and mitigation with the pros at Arkansas Power Dry. We'll take all of the necessary steps to determine whether you have hazardous radon gas in your Little Rock-area property, and then to mitigate the problem. Call now to schedule your appointment with a radon inspector from our team!
Radon Testing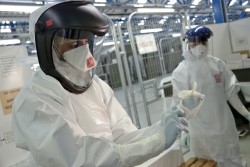 Radon is a colorless, odorless, and tasteless gas, which means you won't be able to detect it on your own. Arkansas Power Dry offers both short-term and long-term radon gas testing, using state-of-the-art tools and techniques to discover how high your radon levels have become. Accurate radon inspection is key in knowing how to move forward with radon reduction. You can count on our experienced and knowledgeable specialists to learn the true scope of your radon problem.
Radon Mitigation
Once we've done a radon gas test, it's time to begin the radon mitigation process. We use procedures including:
Sub-slab depressurization for buildings with basements or slab-on-grade foundations
Sub-membrane depressurization for buildings with crawlspaces
When properly installed and maintained, these radon reduction systems can reduce radon levels in your indoor air by as much as 99%. By calling on the pros at Arkansas Power Dry, you can experience true peace of mind, knowing that you've made the right decision for the safety and health of your building's occupants. We'll even take into account your property's style and structure during radon mitigation installation to ensure you see the best possible results.
Arkansas Power Dry is proud to be fully licensed and insured for radon inspection and mitigation. We have 33 years of experience in our industry. As a testament to our record of customer satisfaction, we're affiliated with the Better Business Bureau and the Little Rock Chamber of Commerce. In short, you're in good hands when you choose Arkansas Power Dry as your radon inspector. Get a free cost estimate for our radon detection services by calling or e-mailing us today!