Has a recent rainstorm sent water flooding into your basement? Did a pipe burst in your wall, leaving your floors a soggy mess? Arkansas Power Dry is pleased to offer water damage cleanup to home- and business owners throughout the greater Little Rock area. When it comes to water damage restoration, we're one of the most experienced companies around. Arkansas Power Dry has been in business since 1987, and our team has 33 years of experience in the industry. Plus, we're fully licensed and insured for flood damage restoration and all of our other services. Our affiliation with the Better Business Bureau and the Little Rock Chamber of Commerce reflect our commitment to customer service. Need water damage restoration service at your property? Give us a call today!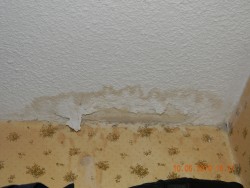 Depending on the specifics of your situation, our water damage clean-up services might include:
Drying and dehumidifying
Sanitizing
Mold remediation
Demolition and removal of waterlogged materials
And more!
We'll come up with a customized plan of action that leaves you with a dry and safe living or working environment. We'll try to salvage everything we can, but if something is too damaged to restore or repair, we'll clear it away for you. Dealing with the fallout from a flood can be stressful and frustrating, but you can always count on Arkansas Power Dry for water damage restoration that's considerate and knowledgeable. Our flood damage restoration pros will treat you and your property with care.
Flooding and Sewage Backups
Some types of water damage are significantly nastier than others. Did you know that flood waters often contain raw sewage, agricultural and industrial chemicals, viruses, bacteria, and other contaminants? When it comes to the mess left behind by sewage backups and serious flooding, you need a water damage restoration company that knows how to dry out your property and safely sanitize it. Arkansas Power Dry offers comprehensive flood restoration services to ensure your home is completely cleaned up after a natural disaster or major plumbing mishap. Our flood damage restoration solutions are the smart choice for a healthy home!
Emergency Water Damage Cleanup
When it comes to water damage cleaning, the most important thing is to take action fast. The longer your belongings remain soaking wet—or even damp—the worse the damage is likely to become. More extensive damage means more expensive cleanup and repairs. That's why Arkansas Power Dry offers emergency water damage restoration service. Call or e-mail us as soon as possible after a flood and we'll get someone right out to your home or business to start work. Our timely turnarounds will give you your best chance of coming through the situation with minimal damage.
In addition to offering prompt and reliable flood damage cleanup services, Arkansas Power Dry stands behind our work with a variety of warranties. We'll be happy to discuss the warranties for water damage restoration services when you call to schedule your appointment. We'll also be happy to give you a free cost estimate.
So don't let a flood ruin your week as well as damaging your space. Arkansas Power Dry is standing by to give you the water damage clean-up help you need in Little Rock and beyond.